Stop By For A Fall Checkup
Fall is a beautiful time with temperatures dropping to comfortable levels and the countryside transforming with leaves changing colors. While this time of year is pleasant, it is best to receive Ford maintenance in OH ahead of time because harsh weather lurks behind the autumn foliage. Our expert technicians can assemble a Ford maintenance plan for your vehicle, so each system and component receives the attention it needs at the right time. Our talented team performs battery checks, brake work, oil changes, tire inspections, and more. You can bring any vehicle to our service center because we have experience performing maintenance in nearly every make and model. Take a look at our Ford maintenance care tips below, and visit Mike Castrucci Ford for your next service checkup.

Battery Test
Let us look at your battery when you are here for Ford maintenance in OH because cold weather can zap the energy of an older battery. If your battery does not respond properly, we will replace it with a long-lasting battery.
Rain and snow make for slippery travel, and our experienced technicians will ensure your brakes are up to any test with a rigorous inspection.
Oil Change
Regular oil changes keep engine temperatures low and prevents metal-on-metal grinding with vital components. When you come for your Ford maintenance in OH, we recommend receiving an oil change between 5,000 and 7,500 miles, depending on the type of oil you use and how you use your vehicle each day.
Tire Inspection
Our service technicians will look over every inch of your tires to ensure there is not excessive wear or punctures. This also will tell us if and when you will need a tire rotation, which is recommended every 6,000 to 8,000 miles.
Windshield Wiper Replacements
Experience a clear view all fall and winter by installing fresh windshield wipers. A new pair will help remove rain and snow that can create challenging vision when mixed with dirt.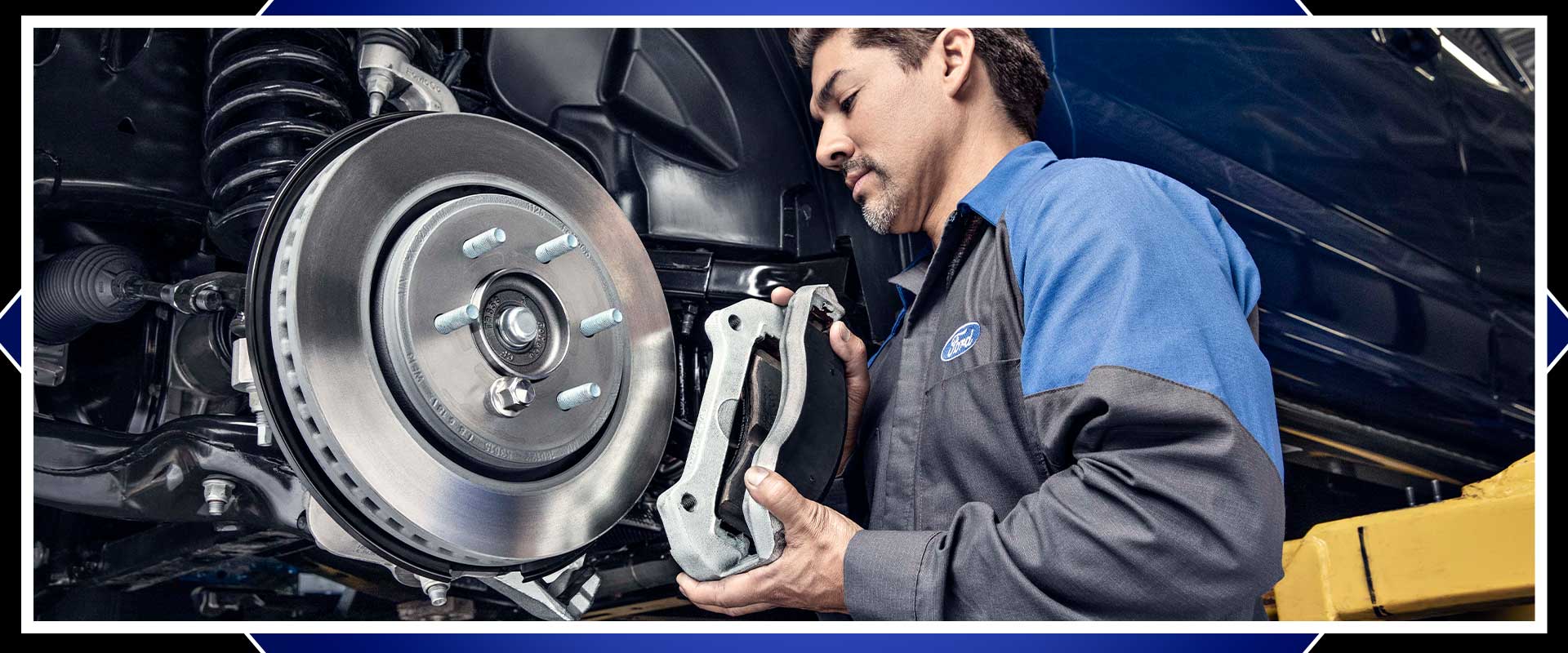 Schedule Ford Maintenance Today!
Our professional technicians will get your vehicle prepared for the colder months. You can schedule your next Ford maintenance in OH by completing our service form below or stopping by the Mike Castrucci Ford service center at a time best for you.
Hours
Monday

7:30AM - 6:00PM

Tuesday

7:30AM - 6:00PM

Wednesday

7:30AM - 6:00PM

Thursday

7:30AM - 6:00PM

Friday

7:30AM - 6:00PM

Saturday

8:00AM - 1:00PM

Sunday

Closed